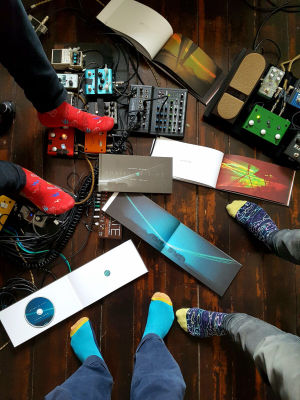 Shapes of Time
(ft. Raphael Vanoli & Udo Prinsen)
'Shapes of Time' is an attempt to aurally translate a search for suspension and focus in a world led by fragmentation and urgency. During a polar expedition, visual artist Udo Prinsen installed various pinhole cameras; the light of several months is represented in one photo. The movements of the sun along the horizon are a 'coagulated' map of time. The tranquil and contrasting landscapes in the photos served as inspiration for the music.
On the album, as well as the concerts, music and images form a rather poetic whole. Oene and Mark's open and elastic interplay allow Raphael plenty of room to augment the duality of the images; It can be calm during the storm, whilst the sun shines in pitch-blackness.
Press on SHAPES OF TIME
Casual and at the same time deeply haunting.

Mischa Andriessen, Trouw
Qualities and expierences beautifully unite.

Gijsbert Kamer, Volkskrant
Shapes of Time transcends the earthly and lets beauty be a real mystery.

Peter de Bruyn, Haarlems Dagblad
In these impressionistic soundscapes, the musicians try to find tension in the smallest possible places. (...) but it is this silence - the deliberate pace of the music - that really impels the fantasy.

Amanda Kuyper, NRC Handelsblad
Daring and progressive music.

Coen de Jonge, Jazzism
Shapes of Time
Mark Haanstra – Bass guitar and Contrabass
Oene van Geel – Viola
Special guests
Raphael Vanoli – Guitar & effects
Udo Prinsen – Long exposure photography
Released on ZenneZ Records, March 2018.
Order your copy at ZenneZ Records.